It you are buying Term Insurance or any Life Insurance policies then it's your primary duty of yours to do some research on Claim Settlement Ratio 2020-21 for 2023 Term Insurance or Term Plan Claim Settlement Ratio for 2020–21 Life Insurance India. You should get all your answers through IRDA Claim Settlement Ratio.
It is the duty of IRDA to publish its annual report year after year for public awareness. IRDA is called as Insurance Regulatory Development Authority of India. It is same like SEBI, where it acts as a regulatory body for Insurance relate matters at the same time SEBI act as a regulatory body for security transaction related matters. Before we proceed further you should be aware of what is life insurance policy along with basics of insurance for beginners.
What is Claim Settlement Ratio? (CSR Meaning)
A Claim settlement ratio means a true number of claims settled or paid on the claim/death of policyholder by the insurance company. For example: suppose 1000 claims are made in a year and only 950 claims are settled by XYZ Insurance Company Ltd. then the Claim Settlement Ratio of the company would be 95%.
This also means that 5% of the claims were rejected by an Insurance Company. This indicates that High the CSR means, its more trustworthy and reliable insurance company. On the other hand, low Claim Settlement Ratio defines that the Insurance company is less reliable.
Importance of Claim Settlement Ratio (CSR)
This is a key important parameter for all those who are willing to buy different types of term insurance, endowment plans, different types of life insurance policy and more. It is always advisable to check IRDA Claim Settlement Ratios to get correct information from IRDA annual report.
Here you can see the snapshot of latest IRDA Claim Settlement Ratio 2020-21 Annual Report. This refers to individual death claim of life insurance for your review.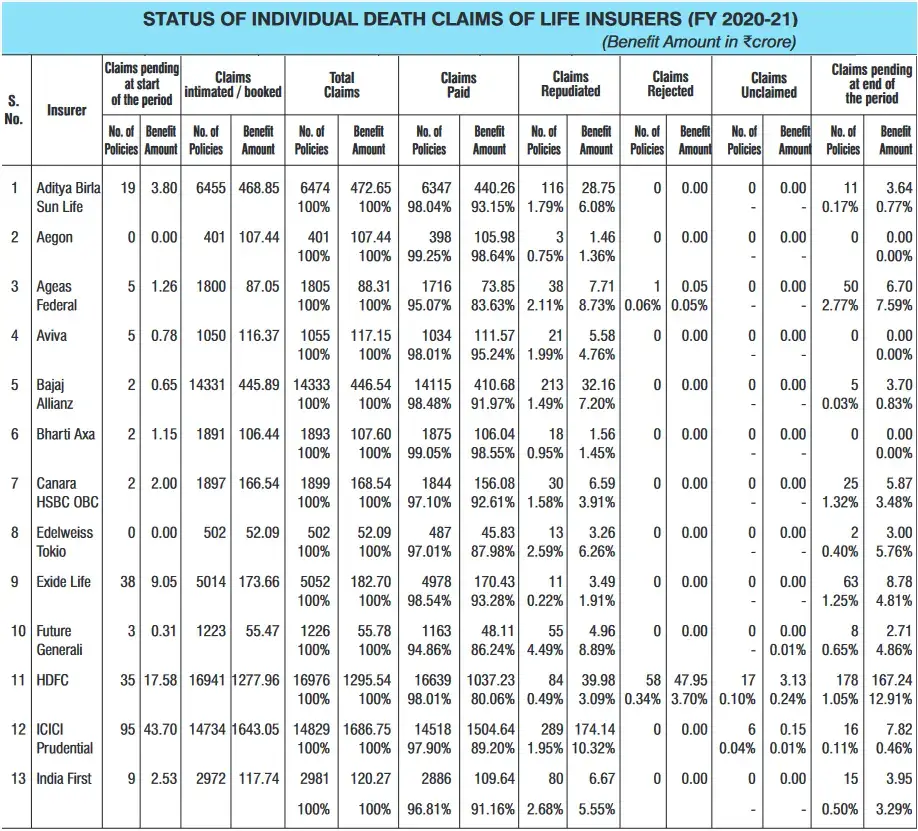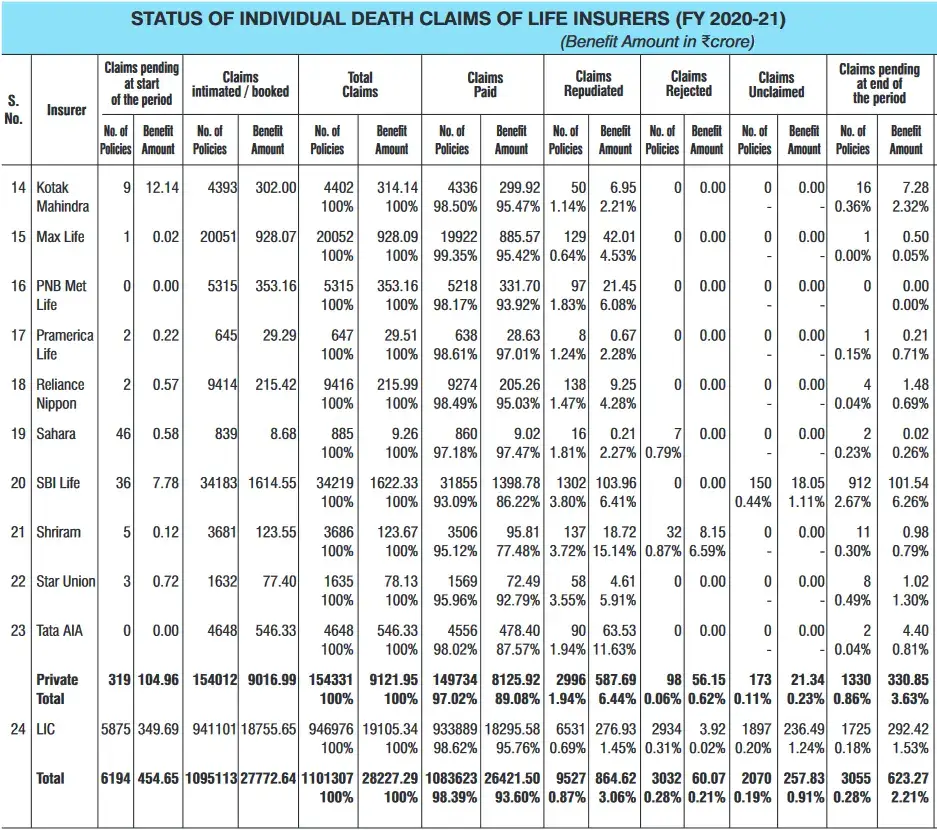 There are people who are also interested to know different types of health insurance data with additional facts along published by IRDA. Download the IRDA Annual Report and check all the facts from the 100% reliable source of information. You can go directly to IRDA website to download the annual report. Even you can download from the direct link provided below for IRDA annual report.
For example: Commission Expense Ratio: Life Insurers, Dividends Paid by Life Insurers, Group Death Claims of Life Insurers, Distribution of Offices of Life Insurers, Total Investments of the Insurance Sector, Investments of Life Insurers and Number of Persons covered under Health Insurance. handled directly by the Insurers, Claims handled through both TPA (Thirdy Party Administrator) and In-house, Pradhan Mantri Fasal Bima Yojana (PMFBY), Aging of claims settled by Insurers, Sector-wise Personal Accident Insurance Premium, Sector-wise Overseas Travel Insurance Premium and much more.
Download IRDA Claim Settlement Ratio 2018-19 Annual Report
When you are planning to buy Term Insurance policy in 2020–2021. Then here is the latest Term Insurance Claim Settlement Ratio which you should surely check it out. Here you can download IRDA Annual Report for this year in English as well as Hindi language. From below you can download full statement in Hindi and English for IRDA Claim Settlement Ratio 2020-21 Annual Report.
Compare with IRDA Claim Settlement Ratio 2020-21 Annual Report.
Comparing with IRDA Claim Settlement Ratio 2019-20 Annual Report.
Comparison with IRDA Claim Settlement Ratio 2018-19 Annual Report.
Compare with IRDA Claim Settlement Ratio 2017-18 Annual Report.
IRDA Claim Settlement Ratio keeps on changing every year. So you should always analyze by previous IRDA Claim Settlement Ration comparison for view the performance stability and of the company.
We have did research and analysis for you based on several years of data and comparison. You can also check top 10 best term insurance plan in India 2022, which you can prefer before buying any term insurance policy. We have also listed best insurance provider based on excellent claim ratio from latest annual report.
Point to be Remembered before Buying Insurance Policy
1) IRDA Claim Settlement Ratios as one of the factors to be considered while buying an insurance policy. CSR should not be the only factor for choosing Life Insurance Company.
2) It is recommended to compare at least last three years CSR. So that, it will give you basic idea about fair and consistent reliable insurance company.
3) Insurance policy is a product to insure your life and not for investment. So, you should always buy a term plan for high-risk coverage instead of choosing any other investment plans.
4) Compare all other features, rides of the insurance policy before buying. Choose the best which fit better to your requirement.
5) Never allow or give permission to any insurance agent, representative or even trusted parties to fill the application form for your life insurance policy.
6) When filling the form always disclose all the information asked in the correct manner and best of your knowledge.
Conclusion
You can even download IRDA claim settlement ratios 2020-21 for term life insurance and check the accuracy of it. For investing in 2023, you should also do analysis and comparison of IRDA claim settlement ratio 2020-2021 with IRDA claim settlement ratio 2021-2022 for 2023 in India. Hope this information will be useful for you.
We are sorry that this post was not useful for you!
Let us improve this post!
Tell us how we can improve this post?