The stock market is a network of exchanges where investors can buy and sell shares of publicly traded companies. The venues for such transactions are such financial exchanges and over-the-counter (OTC) markets that adhere to a set of regulations. Let us understand stock market definition and how to invest in it in this topic.
Equity markets or share markets are terms use to describe a market for stocks, also known as share. It represent ownership claims on corporations. These securities may include securities that are listed on public stock exchanges in addition to stock that is only traded privately. Such as shares of private companies sold to investors through equity crowdfunding platforms. Investments are typically made with a specific investment strategy in mind.
Stock Market Definition
Stock market is the market where equities / shares of the companies are been tradable. Similar to the fruit market where fruits are been trade for money. It is a market where everyone who intends to buy or sell shares comes together. For example: You can't opt to buy or sell Infosys shares without stock market.
There is no other market who can sell or purchase shares of the company. So if you wish to seller a share, stock market facilitates you to meet the buyer and vice versa. Unlike other Super market or fruit market, shares are presented in electronic form and safeguarded in demat account. One can access market through internet and perform buying or selling of equities. Equity investments are one of the best investments to beat the inflation rate.
Indian Stock Exchange Market
Practically, there is no need to track company's shares to get wisdom of stock market performance. A group of top companies are packed together to monitor the performance of the stock market which is term as Index. Market index performance give you the information of overall companies statistics for judgemental purpose where market is bull or bearish or where market is trending from bullish to bearish or vice versa.
Indian market consists of two indices, The S&P BSE Sensex indicating the Bombay stock exchange and CNX Nifty indicating the National Stock exchange (NSE). S&P stands for Standard and Poor's, a global credit rating agency. S&P has the expertise in assembling the index and licensed to the BSE.
CNX Nifty consists of frequently traded stocks and maintained by India Index Services & Products Limited (IISL). IISL is a joint venture between CRISIL and NSE and hence 'CNX' stands for CRISIL and NSE which supply information above overall market conditions every second.
Indian Stock Market Times
Market pre-open at IST 0900 hrs, where one can request orders or modify orders with the intend to start matching immediately after close of pre-open order entry. Stock trading hours start from IST 0915 hrs and stock market closes at IST 1530 hrs. This is a normal trading time where you can buy or sell shares at real time.
Post closing session starts from 1540 hrs to 1600 hrs, where any transactions fail to settle are been performed by exchange like day trading stock has to be closed on the same day. Exchange will settle the trade if user fail to do so and in many more such discrepancies circumstances.
How does Stock Market works?
Let's assume you are new to stock market and you want to buy the ITC Limited share. You should probably look toward seller who is willing to sell ITC Limited share. The price that the sellers ask you is refer the 'Ask Price'. If you want to sell ITC Limited share you should look forward for buyers of the shares. The price that buyer demand is refer as 'Bid Price'. Then you can choose the price at which you want to place the order with the stock broker.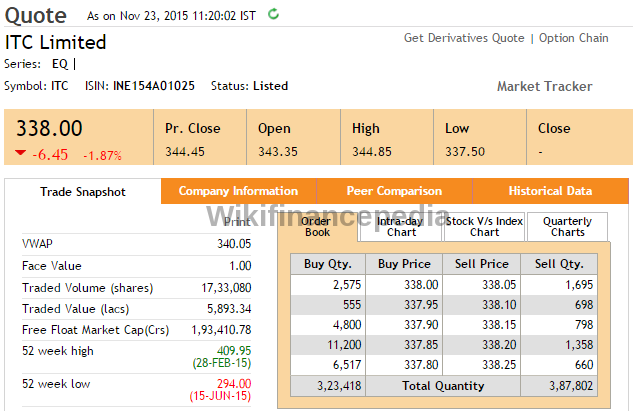 Shares are one of the risk free with high return investments if you are planning for the long term investment. The reason why shares are risk free is because every company makes profit and those companies which fails to make profit are been merger with other companies and finally make profits. For example: To expand the profit and presence in global world CMC Ltd merger with Tata Consultancy Services Ltd (TCS). TCS has performed approval of its merger and had announced merger on April 2015 year.
Example of Stock Market
Let us take an example of stock market to understand investments with high returns in long run:
Assume that you want to purchase 25,000 shares of ITC Limited for Rs.43/- in 2005 year that means you have invested Rs.10,75,000/- (25,000 * Rs.43) (or $16,540) into share market as a stock investing. And you intend to sell ITC Limited shares at Rs.338/- in 2015 year that means your principle plus capital gain would be Rs.84,50,000 (25,000 * Rs.338) (or $1,30,000). Apart from this ITC Limited has given dividend to its share holders every year and gave out bonus shares as well.
Overall including all the factors you returns will be around Rs.1,00,00,000/- (or $1,53,850). Which is amazing high yield income than any other investment assets with very less time investment. So overall you make 930% (Rs.1,00,00,000 / Rs.10,75,000 Percent) returns in merely 10 years. See the below ITC Limited chart of 10 years.
Let's take few examples of stock market as a virtual simulator and learn how to purchase stocks without any stock market tips and figure out by yourself. Check out our next tutorial lesson as a brainstorming for market simulator.
Read E-Learning Tutorial Courses - 100% Free for All
Basics of Banking and Financial Services for Beginners
We are sorry that this post was not useful for you!
Let us improve this post!
Tell us how we can improve this post?