There are times where you need virtual credit card in India or international virtual credit card for online payments. Here in this post we will discuss about what is a virtual credit card?, what are the benefits of VCC, how to create a virtual credit card and how does virtual credit card generator works.
Many times there is mandatory to make payments through credit cards, for example: university fees, hire a freelance, other services for bloggers, etc. But you don't want to purchase the credit card or you don't want to expose your card details. In those scenarios, virtual credit card for international payments is the best option for you. You can create virtual credit cards by choosing Visa, Mastro and integrating with your PayPal, Debit Card, Credit Card and many other options.
What is a Virtual Credit Card?
Virtual credit cards is mostly called as VCC Card or popularly called as a prepaid virtual credit card or virtual debit card in India is an add-on issued on your existing card. As the name status, it's a virtual card. It does not have any physical presence. It is intended to be utilized just virtually, with all the relevant details like: card number, expiry date, valid from, CVV number remains the same as the physical card.
Virtual cards payment means creating a VCC with random generator number and can be used one time for online purchasing or international payments. VCC card get expire within one month from the date of purchase to protect customer from online credit card frauds.
The Benefits of Virtual Card Payments
Most critical benefit of this VCC card is its anti-theft card. Because its number is available virtually and it can be utilized for one time which make this card much safer than your usual physical credit card.
Another important benefit of this card is its simple to use. You can shop online effortlessly utilizing virtual credit card. Now days, almost all the major bank acts as a virtual credit card provider in India. Apart from bank there are other online trusted website specially design for VCC providers in India. You can check our website for best virtual credit card in India to get further information on it.
Once VCC is created, virtual credit card generator will generate a credit card number for you. For purchasing anything from online e-store or buy from online shopping sites, you only need credit card number. You do not require any further information as required by physical credit card. This make VCC as a best payment device of new generation.
Virtual credit card is similar to virtual debit card in India. There is no credit offered on your VCC. Mostly transaction limit for this virtual card's is between INR 500 to INR 50,000 for all the major banks in India. So the risk of credit limit is limited.
How to Generate SBI Virtual Credit Card Online?
Now a day various Indian banks are offering virtual credits cards. If you are a SBI customer and don't have a credit card then presumably you can give a try State Bank of India Virtual Credit Card generator facility. It is always recommended to use VCC for online when you do not want to give your card details to anyone. With SBI Virtual card we can easily purchase items from different online shopping sites and e-stores. Please check with the bank for terms and conditions and limitations on it. Check it out, there are options to create international virtual credit card as well as domestic virtual credit card. Let's see two simple steps to create State Bank of India Virtual Card.
Step -1: Login to your SBI web login for your Banking Account. Furthermore, click on e-card choice on right hand side. Also fill the value between Rs. 100 to Rs. 50,000. At that point check the registration to acknowledge terms and condition and click on "Generate" Button. See in the below picture.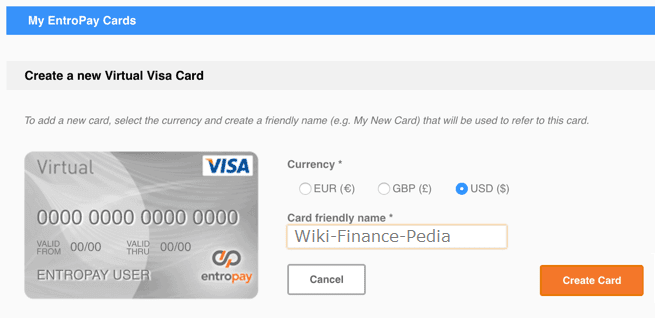 Step-2: You will now get the confirmation screen to re-verify the details entered on State Bank of India e-card page. Here you will have to click on "Generate" button.

Step-3: After you verify all your details, you will receive an eight digit password on your mobile number. You will need to enter the password and finally click on "Confirm" button.
Finally your e-card or virtual credit card is ready to used. It will have Visa Card number of 16 digits. CVV number, expiry date and cardholders name. Your VCC look something like shown in picture. Just make note of your new virtual card detail for further use. You can also retrieve the information again from "Virtual Card Details" tab.
How to Create Virtual Credit Card?
There are service provider other than banks for creating VCC. Each service provider has a limit of maximum value. You can give a try to other virtual credit card provider if your maximum transaction limit is more than the value mentioned by this service provider. Here we will take an example of Entropay which is widely used virtual credit card for international payments.
Step-1: Go to Entropay website and click on "Sign up now" to create an account with Entropay. Then click on create virtual card and fill all the basic required details like: currency, cardholder name, etc. and click on "Create Card" button to create VCC now.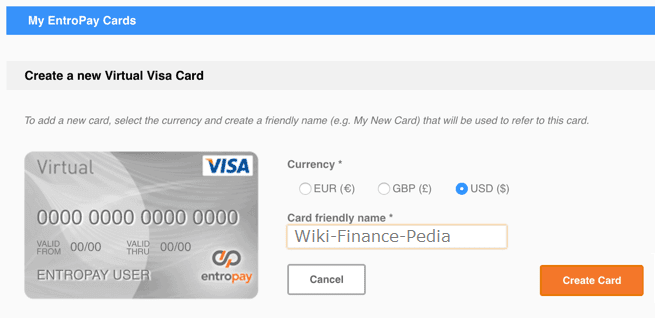 Step-2: You will now get the confirm detail screen where you will enter additional details like: your physical credit/debit card details, top-up amount, etc. on create new virtual credit/debit card detail page. Here you will have to click on "Confirm Details" button.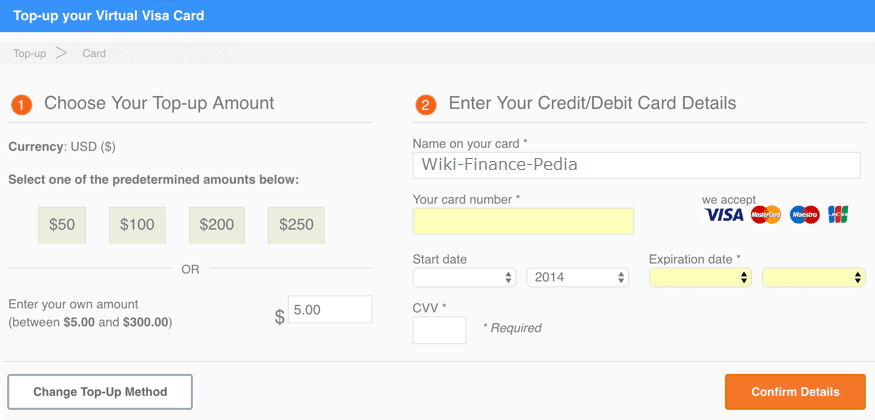 Step-3: After clicking on "Confirm Details", you will receive a verification code on your mobile number to confirm the VCC charging. You will need to enter the verification code and finally click on "Confirm" button.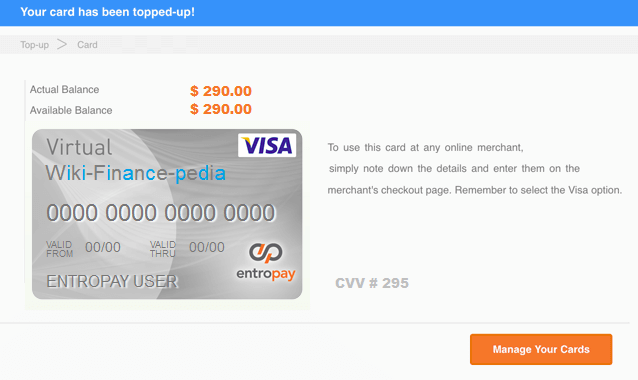 3 simple steps for your virtual credit card generator and it's ready to use now. You will notice that this VCC is similar to your physical card just that it doesn't have physical present. You can now use this card for international online shopping, buying from international e-store or paying your registration / fees to university / college for abroad education, and many more reasons to use this card. Check the below image, your VCC will look something like this.
Conclusion
Here we have seen virtual card meaning, how to create virtual card in India and how does virtual card generator works. Give it a try for online shopping or international payments. You will fond to love it as we had. Let us know how virtual credit / debit card worked well for you. We would be waiting for your feedbacks.
We are sorry that this post was not useful for you!
Let us improve this post!
Tell us how we can improve this post?